Heartfelt Gifts:
A gift given with much thought, deep meaning and sentimental value.
(Wasn't I just the cutest baby?!)
Today we wanted to feature Heartfelt Gifts for the first love in most ladies life, their dad.
It is customary practice for the couple to thank the Bride's Parents with a gift, usually because they are footing the bill. Even if they are not able to financially contribute it is still a wonderful gesture to honor your mother and father with a token of love.
Men are notoriously hard to shop for, probably even harder if they are your father. Instead of focusing on monetary value, choose a gift that highlights the bond you two share.
Just because you are now someones wife it does not mean you are no longer his little girl.
1. For the Father who loves great style: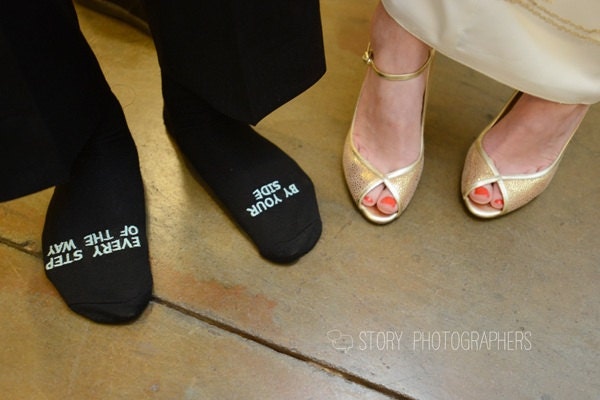 Sox by
SilkscreenExpress
For the Dad that loves sports almost as much as his little girl:
Buy two tickets for a Father/Daughter date at
Ticketmaster.com
.
For the Father that can't help but cry a happy tear: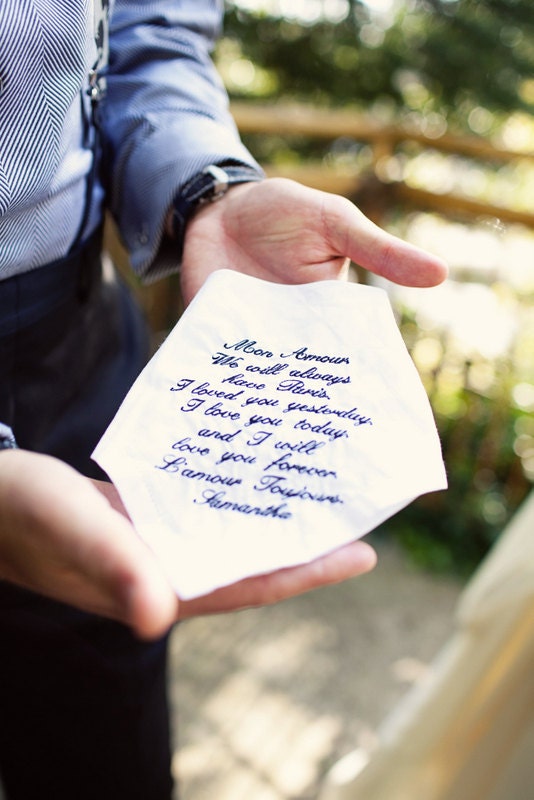 Handwritten Note on a Handkerchief by
elriley
For the proud Papa that loves putting his accomplishments on the wall: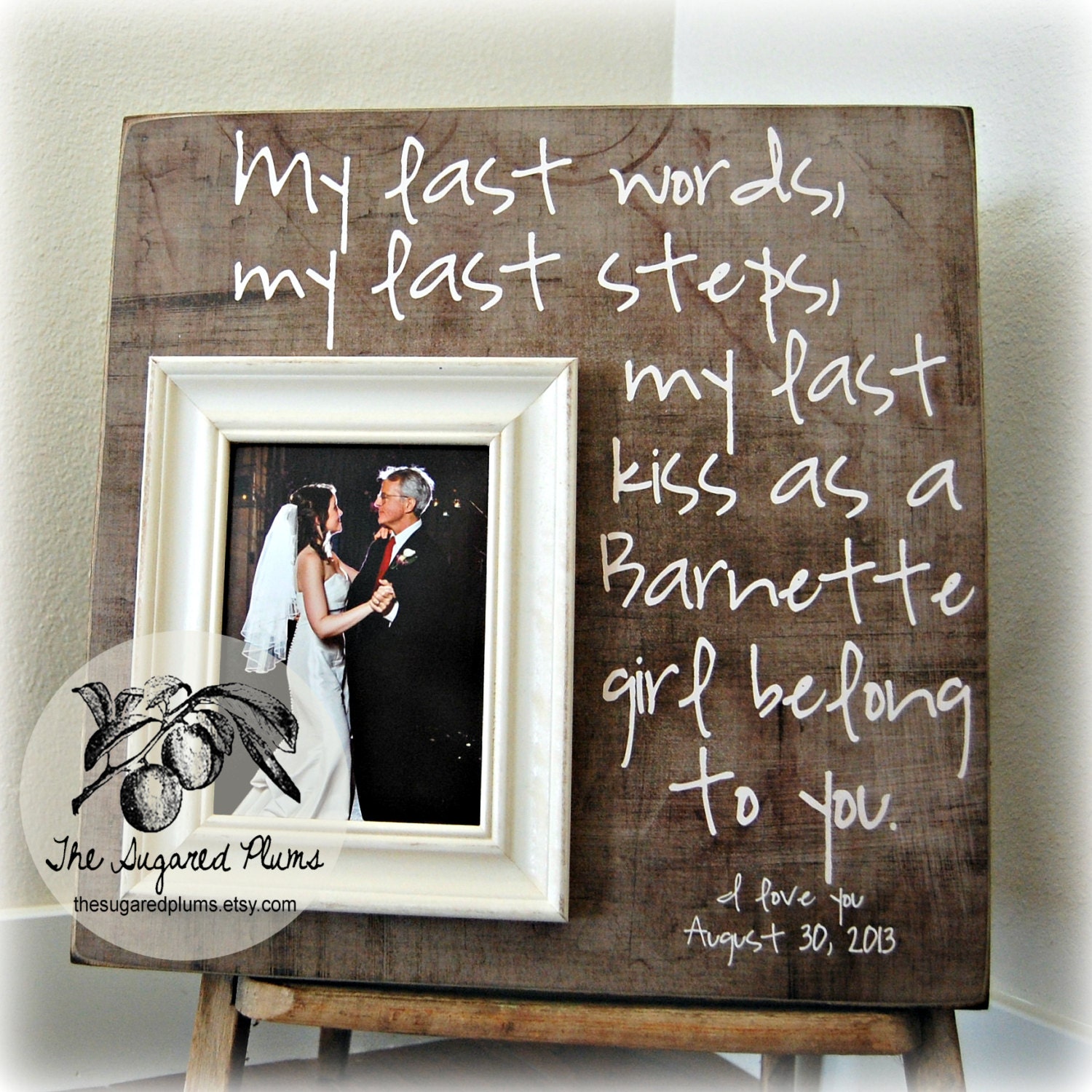 Custom Picture Frame by
thesugaredplums
For the Dad that likes a daily reminder to keep in his pocket: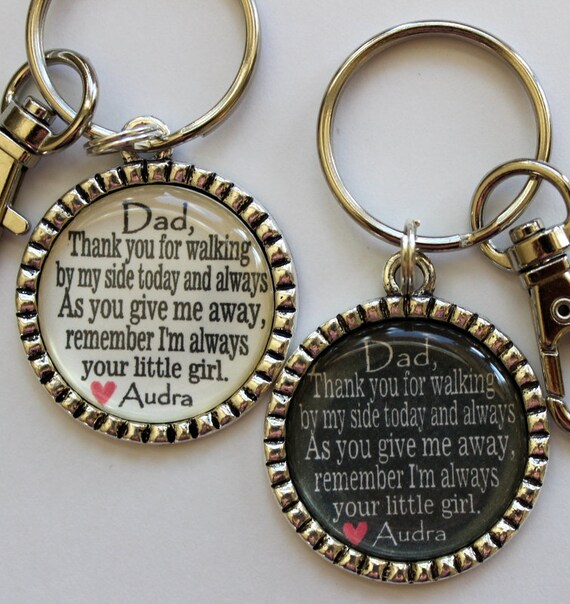 Key Chain by
TrendyTz
For the Dad with a big heart and bigger stomach:
Bacon of the Month Club from
Amazingclubs.com
For the Father that didn't just feed you fish, but taught you to fish: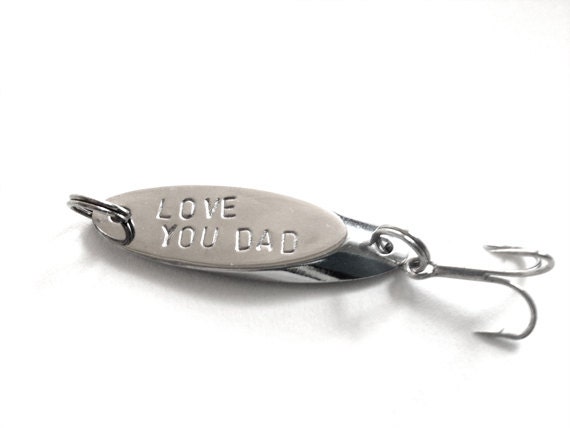 Fishing Lure by
WyomingCreative
For the Papa that fixes everything: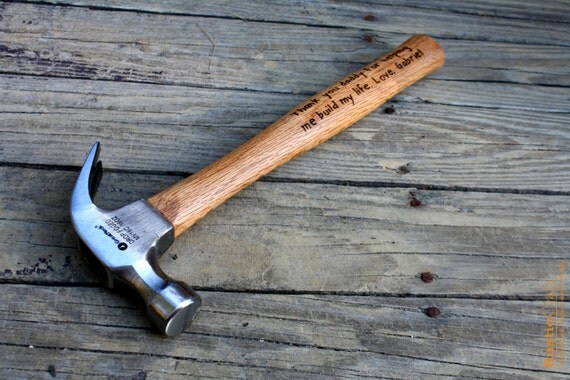 Engraved Hammer by
rusticcraftdesign
*
The Bridal Encyclopedia Tip of the Day*
Take a few moments today and call your father, not email or text, actually have a verbal conversation. Give him an update on how your Wedding Plans or life in general are progressing. Recruit him to be involved in some small part. He may not be interested in dress fittings and cake details but find something he can connect with. He could help choose a Craft Beer to serve or give tips on assembling the Gazebo for the Altar.
Even if you have been out of the nest for years an actual wedding symbolizes your father giving you to another man. It is a very sensitive time for a father; the more you show him how important he still is to you, the easier he will accept your new union.
What do you and your father love to do together? Which of these gifts do you think your dad would like the most? Have any other great Dad Ideas?