Happy New Year Ya'll! I'm so enthusiastic to begin a whole new year with all of you. It's a fresh start to update our Wardrobe, Workout Routine and most importantly our Attitude. I have always been a fan of thinking outside the box, it's what first attracted me to the Wedding Scene. Here I have put together a few ideas that I'd love for you to mull over in your own planning process. Keep an open mind and let your imagination run wild...
1. Let Guests Circle Around
This is a brand new set up popping up in intimate ceremonies around the country. I truly love this idea because it symbolized not only the couple joining but their families joining also. Consider a circle of chairs to surround yourself literally in a circle of love.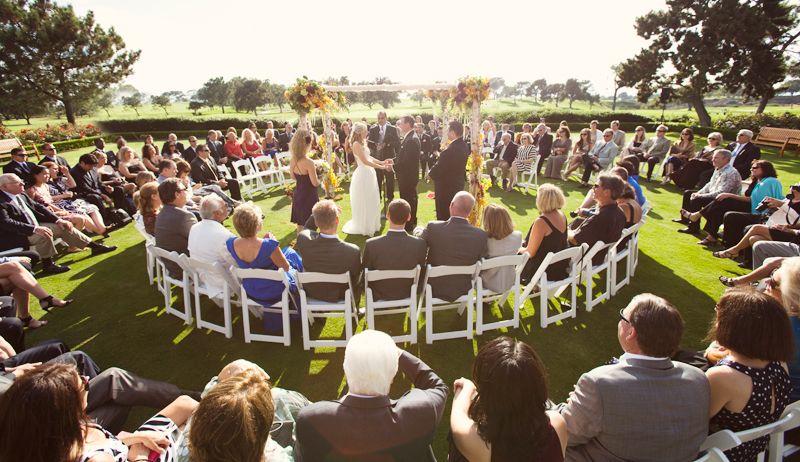 Photo Credit: Luna Photo Blog
2. Smaller Plates/Bigger Flavors
Every wedding guest in America is sick of bland Chicken with Mash Potatoes and Vegetables. Leave the dull buffet line behind and instead choose flavor filled tapas dishes to be shared at each table. If there are 8 people at each table do 8 small plates. Give a variety of Cheeses, Vegetables, Fish and Meat so all tastes will have something to munch on. This way of serving also immediately opens the line of communication with tablemates and can spark conversation.
Photo Credit: Jomfrureiser
3. Add in Aztec Touches
Last years Art Deco craze has morphed into this years Aztec obsession. We love these patterns in details like jewelry and accessories but done tastefully we could see even Bridesmaids Dresses or Table Clothes full of trendy triangles.
Photo Credit: Burntheblond
4. Upcycle Wedding Dresses
Look in Mom or Grandma's closets for old wedding dresses. Lots of times with some simple alterations you can use a hand me down and turn it into a brand new masterpiece!
Photo Credit: Janice Martin Couture Blog
5. Forget the Flowers and Make it Mossy
Although Flowers are beautiful it is interesting to consider an earthier more rustic take on plants for your centerpiece. I know this trend has peaked it's head out over the past few years but I think it will really bloom this Summer and Fall.
Photo Credit: The Wedding Post of Arkansaw
6. Toaster are out. Tropical Honeymoons are in!
Traditional Registries were created in a time when couples still lived seperately and were in need of household items for their new life together. With many pairs already established in an apartment or house far before the wedding date, the need for those essentials has most likely already been met. Instead of the classic regestry, think about setting up a registry for a Honeymoon somewhere exotic. I will be doing a more in depth, step by step on how to do this next month.
Photo Credit: Bride Pop
*
The Bridal Encyclopedia Tip of the Day*
Do not be scared to add in Fashion Trends. Weddings should be representative of the time they are in, and it's fun to look back at pictures and relate through the clothing to the era and styles that were popular at the time. With that said, don't go overboard either. Think of style trends as icing on the classic cake. I like to do a 3-1 ratio. Three classic pieces per one trendy piece. Stay tuned for more on this Aztec trend and how to dress your Bridesmaid in it. I'll be blogging a how to on the topic in two weeks.
Did you like the trends I chose? Do you think you might incorporate any of them in your wedding? Have any 2014 predictions of your own?