I'm so excited to be assisting Lindsey and James plan their fun filled Fall Boda. We have already secured a gorgeous venue, The Pointe Vincent Lighthouse and Interpretive Center, that boasts breathtaking views of the Pacific Ocean with front row seating to a multicolored cotton candy sunset. Something about overlooking the water in SoCal on a warm afternoon that just makes you feel you are in paradise. This ambiance helped give Lindsey the idea of a Mexican Influenced Theme. She also knew from the start she wanted a Taco Caterer, just not exactly the details after that. My creative mind started wandering. What meats, cheeses and veggies should we choose? I wonder what Hot Sauce the guest want? What vessels should we put everything in? Oooh and we can't forget the pretty decor... this train of thought led me down a Mexican Rabbit Hole, emerging out the other side with 88 awesome options for Lindsey, James and all other fiesta loving amigos to consider.
When mulling over food options for your big day Taco Catering should be near the top of your list. There are so many positives to taking a trip to Flavor Town with with a South of the Border cuisine. The most important reason to choose a certain type of meal is because you enjoy eating it. Did you know according to
www.nationaltacoday.com
(yes there is a National Taco Day on October 4th every year) American's ate over 4.5 BILLON tacos last year!!! That is enough tacos to reach the moon and back and heavy enough to weigh the same as two Empire State Buildings. I think these fun facts reiterate what we all already know, people love tacos and so will your guests.
Secondly, anything you can customize at a wedding is a plus. Sometimes I'm in the mood for a heavy meaty taco with shredded cheddar and guacamole, while other days I want a light shrimp, cabbage and mango salsa snack. By providing multiple options you are giving your guest the power to create a plate they are sure to enjoy. It also allows people with specific food needs (Pescatarians, Vegetarians, Vegans, people with Glutton Allergies and Non-Dairy Eaters) to mix and match foods without a server or catering manager having to be responsible for guests special diets.
My favorite reason for choosing Taco Catering over others is because it's so affordable. With prices in the wedding industry skyrocketing, finding a way to feed lots of people you love for a reasonable fee is almost unheard of.With the price so low you have some room to use the Caterer as a solid start then add on your own fun Salsas, Hot Sauces, Funky Plating and more while still staying under budget.
Now that you know why Taco Catering is a killer idea, check out how to create a wedding worthy spread...
THE SET UP:
Overlay
that matches the color pallet of your reception
Bright Cake
Stands
for displaying sides or sauces
Wicker
Basket
to hold
Napkins
,
Forks
,
Spoons
&
Knives
THE BASE:
Shell Bowls
for Taco Salads
Butter Lettuce Cups
(awesome option for Non-Glutton guests)
THE GOODS:
VEGGIES:
Sauteed
Bell Peppers
,
Spinach
&
Onions
Shredded
Green
&
Red
Cabbage
(it actually looks purple)
Pickled or Grilled
Jalapenos
SIDES:
Mexican
Fruit Cups
with Watermelon, Jicama, Cantelopes & Mangos
SAUCES & SALSAS
I found an awesome article on Hot Sauces on Good Food.
Check it out
here
to read about your old favorite or maybe find a new favorite.
FINISHING TOUCHES:
DRINKS:
Mexican Beer
(My favorites are Corona & Pacifico)
Crushed and or Cubed
Ice
in
Bucket
with
Scoop
PRETTY EXTRAS:
*Leave an empty vase on the Buffet Table so after the Ceremony the Bride can leave her bouquet there on display for everyone to see as they pass through the line!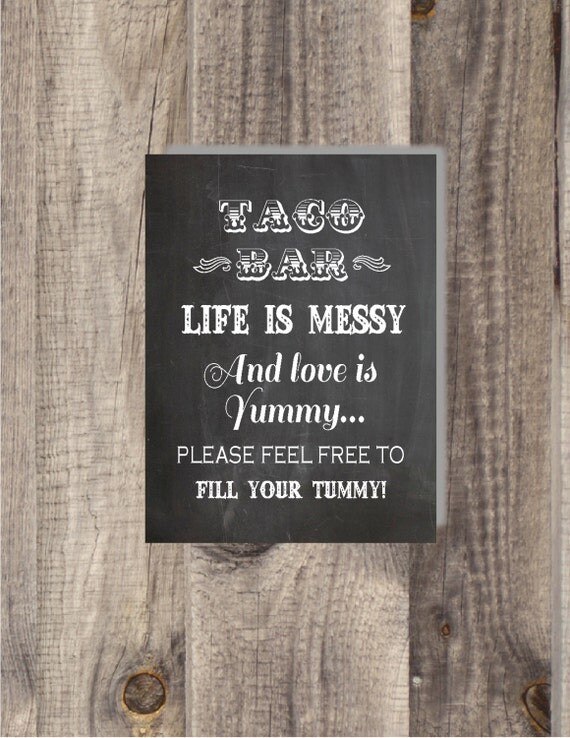 A very special thanks to
Soho Taco Gourmet Taco Catering
for sharing their beautiful pictures with us. Their food is absolutely delicious but as you can see every dish is also a work of art. They are based out of Orange County and serve most of Southern California. Check them out!!!
I'd love to hear all about your thoughts. Do you love Tacos? Would you consider one for your party or wedding? Which meat, cheese, veggies, toppings would you choose? Did I miss a good ingredient?