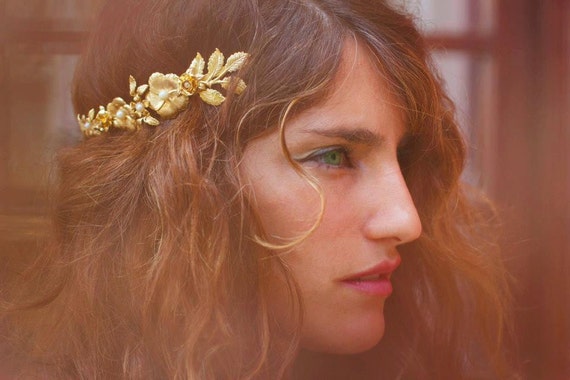 In our last post we chatted all about veils. It was interesting to find out why brides began wearing them, length and fabric possibilities along with a few great tips. If you missed it click
here
to catch up on all the lovely tulle and lace filled options. Today we flipped the script and are going over bridal styles that are not a veil. These options might seem more modern or in current vogue, but you might be surprised. Most Christian ceremonies before the 19th Century adorned their bride and groom with crowns made of twigs and flowers. Meaning veils are actually a newer tradition in a lot of religions and their more revealing counterparts are more classic. There is no exact definition, guide or industry standard for non-veil options. So I made my own. Here are my favorites from most minimal to most covered and some amazing examples...
PLAIN:
The most obvious option that most brides never consider is just a plain style with no accessories. Who said you have to wear anything on your head? If you are a simple gal this may be the perfect look for you. We love the simplicity of this bride from a photo showcased on
Catherine Elizabeth's
website.
INDIVIDUALS: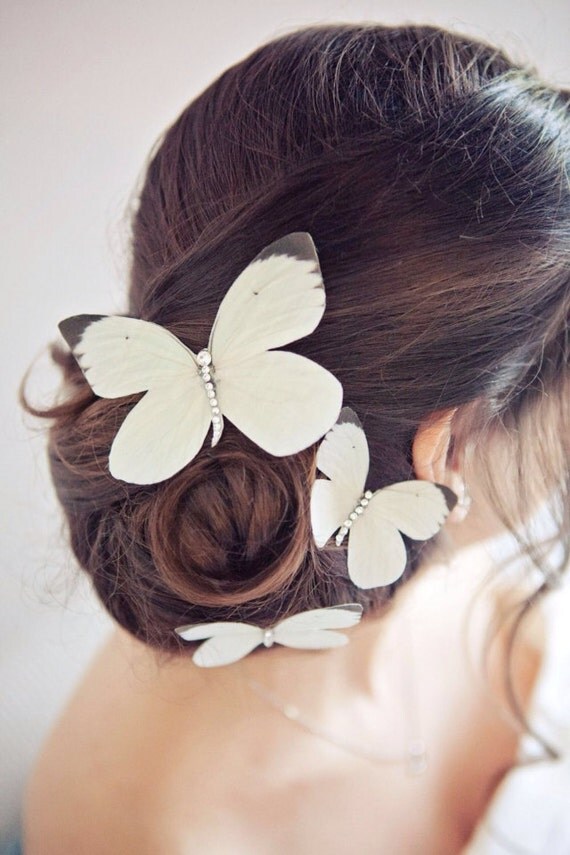 A wonderful way to make a simple bun or braid more intricate is by adding small, singular hair pieces. They usually have a circular metal ring that slips into the hair and twists into place. There are endless options from rhinestones, pearls, stars, flowers to even beautiful butterflies. These fluttering beauties are from the shop
Flutter Designs
.
BOBBY PINS: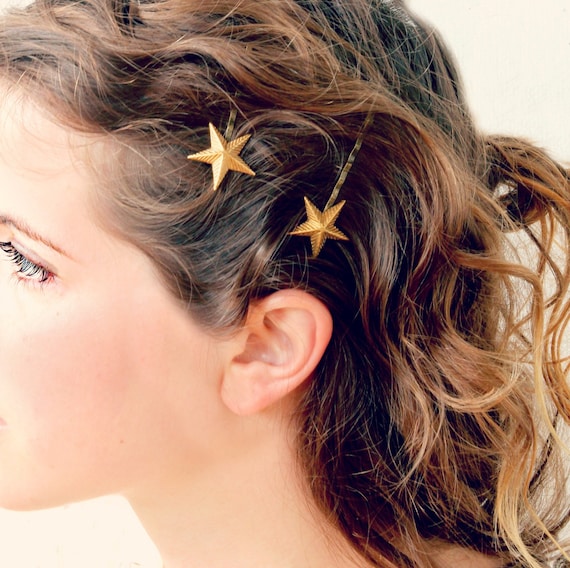 There is a good chance you will have a ton of bobby pins in your hair to hold every strand perfectly in place. Why not add one or two with an embellishment. My favorite ones are unique pieces such as stars, sea shells or art deco shapes like these from
Nest Pretty Things Shop
.
CLIP: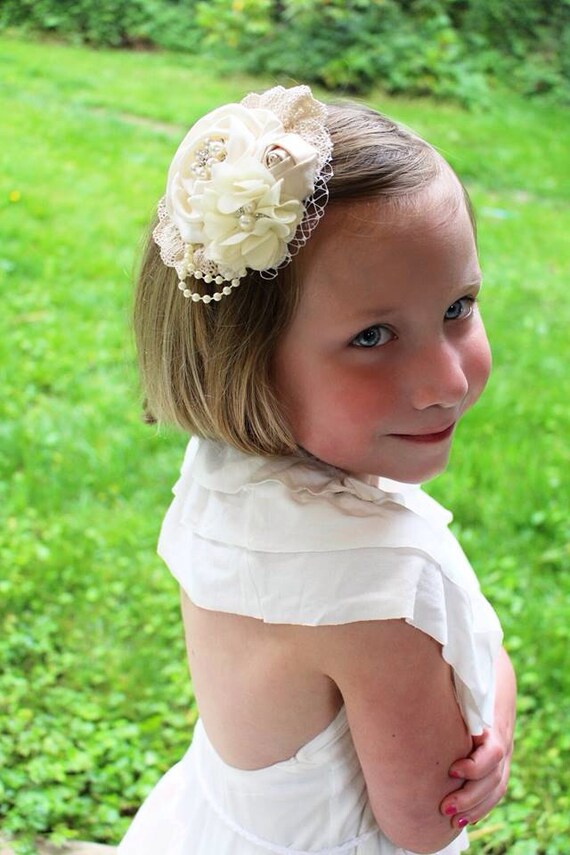 How cute is little model? I love bridal clips because they are stronger than pins and can hold a lot more than the smaller options. They do cause a crimp in your hair, so make sure you are wearing the same style throughout the evening and not planning to take it out. A clip like this one from
Lexi Couture
is the perfect mix of satin, lace, netting and pearl to make any flower girl feel grown up and glamorous.
COMB: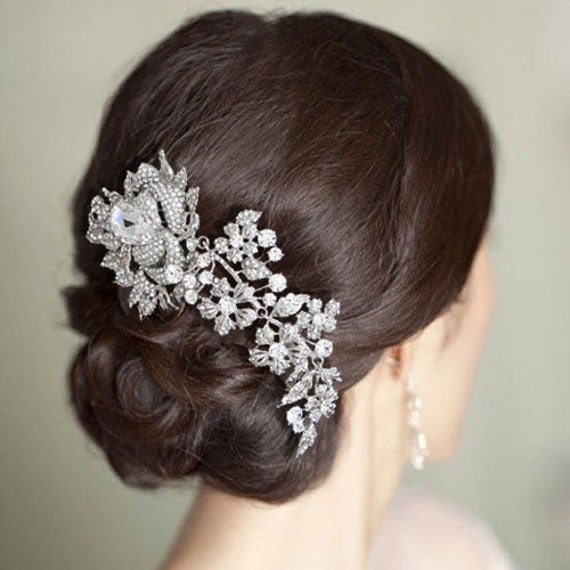 The comb is special because it simply slides into the hair and can easily be added or removed. It works best paired against a bun or other substanstal and stable style. Lots of brides wear a traditional veil for their ceremony and then switch out for a fancier look, like this vintage inspired rhinestone and cristal comb by
Ctrom
, for the reception.
MAANG TIKKA: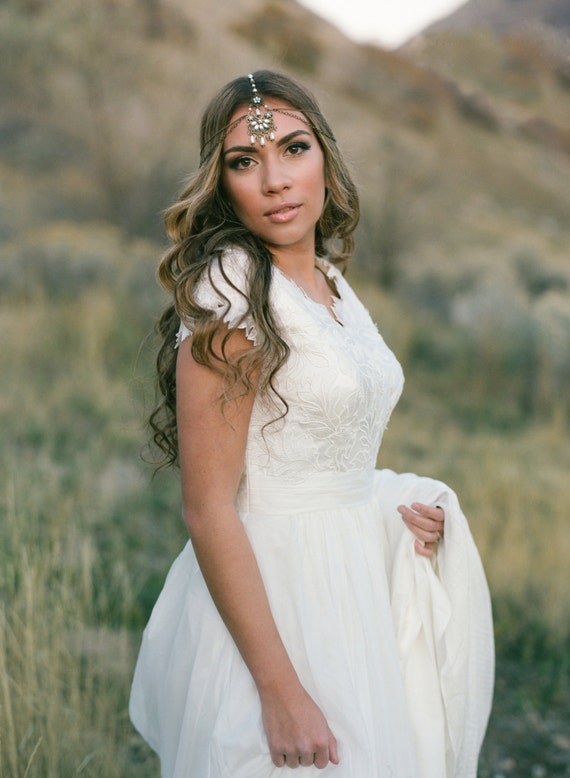 The piece I chose to feature is similar to a traditional Maang Tikka, but with bohemian American influence. This look originated in South Asia, where brides are adorned with beautiful outfits and any range of jewelry from a simple head piece to an extravagant headdress. The common factor is that there is an embellished piece that runs down the center part and hangs over the forehead. This unique and lovely example is from
Danadi
, made in brass and kissed with pearls.
TIARA: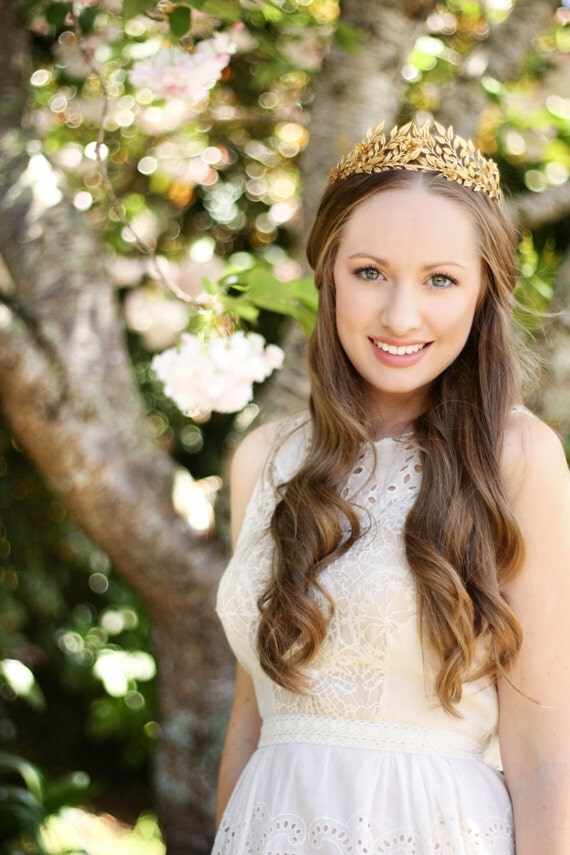 This tiara is perfect for a grown up princess on her wedding day. As a former beauty queen (sorry for the shameless brag) I remember the tingly, excited, butterfly filled feeling I got when I topped my head with my special crown. If you want to have the same feeling without looking like a complete princess, go for a gold leaf tiara like this gem from
Anna Marguerite
.
HALF CROWN: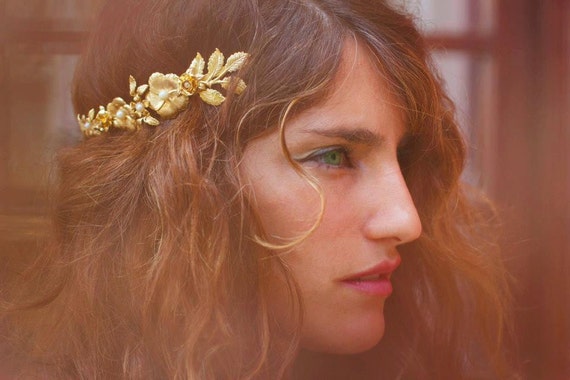 This look has a Grecian feel that is perfect for any goddess on her wedding day. It is only half a full ring and usually is molded into leaves and flowers. I think this look from
Avigail Adam
is perfect for a boho celebration. It can be paired with a veil or worn solo.
HEADBAND: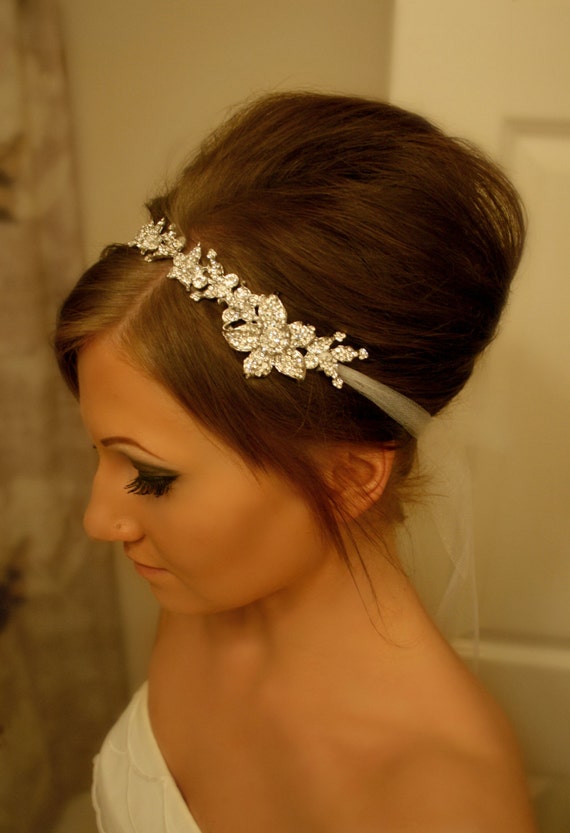 In my opinion this can be the most diverse and possibly popular hair accessory. It can be made of virtually any material, color, width and can be tied in a variety of fashions. I decided to showcase this one from
Brass Lotus
because I like the bling and think the tulle is a nod to a traditional veil without being too classic.
CROWN: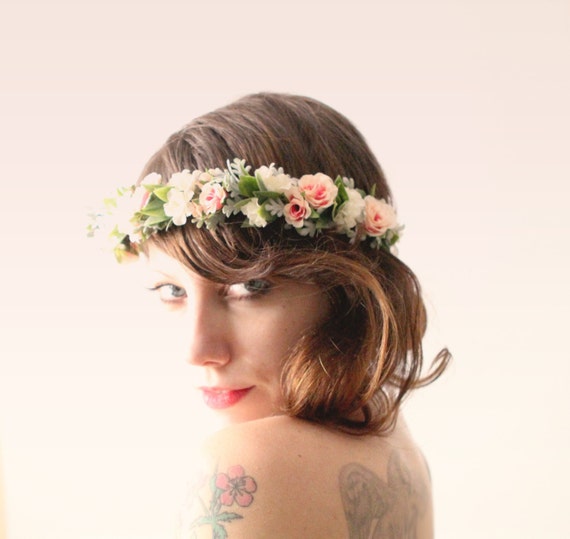 Flower crowns are all the rage right now. They are playful and youthful but can be customized with different size flowers or shapes to fit the exact look you are going for. This floral hair wreath by
Which Goose
has pink roses and sage. Want to feel like a magical woodland fairy? This is your best option!
JULIET CAP: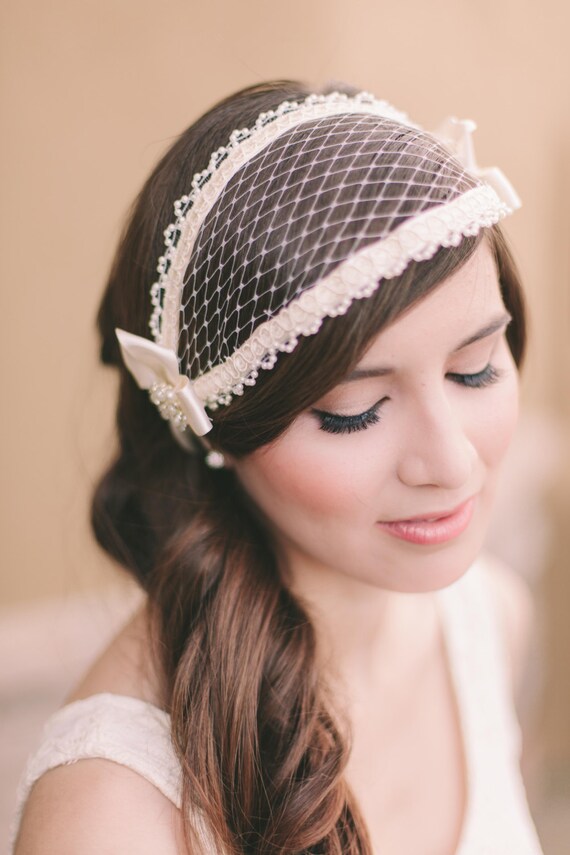 This beautiful bridal cap by
Jules Veils
is made of french netting, satin ribbon and trimmed with pearl. This specific look is usually refered to as a Juliet Cap and can be easily paired with a veil in the length of your choice. This style is indeed named after the heroine in Shakespear's
Romeo & Juliet
.
TURBAN: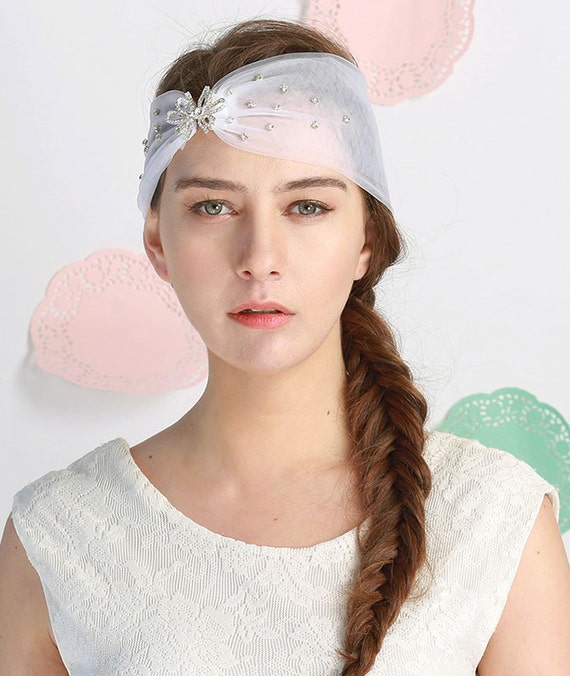 Not everyone can rock this hip look, but it has a gorgeous and daring appeal. I especially like this turban from
Cynthier
made of tulle and adorned with crystals.
CLOCHE HAT: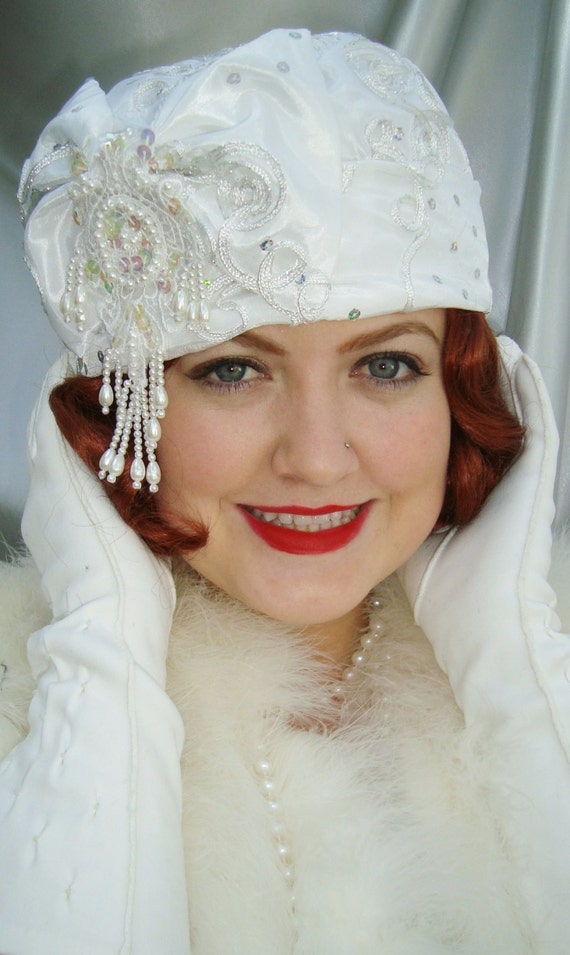 Although this look is probably the most costumish, it screams vintage charm. This style is great for two reasons. First, it goes great with a Gatsby Themed Affair, which is very in vogue right now. Secondly, it is snug and warm for Fall and Winter weddings. I love the glamour statement portrayed here by
Lady Katherine Hats
.
PILL BOX HAT: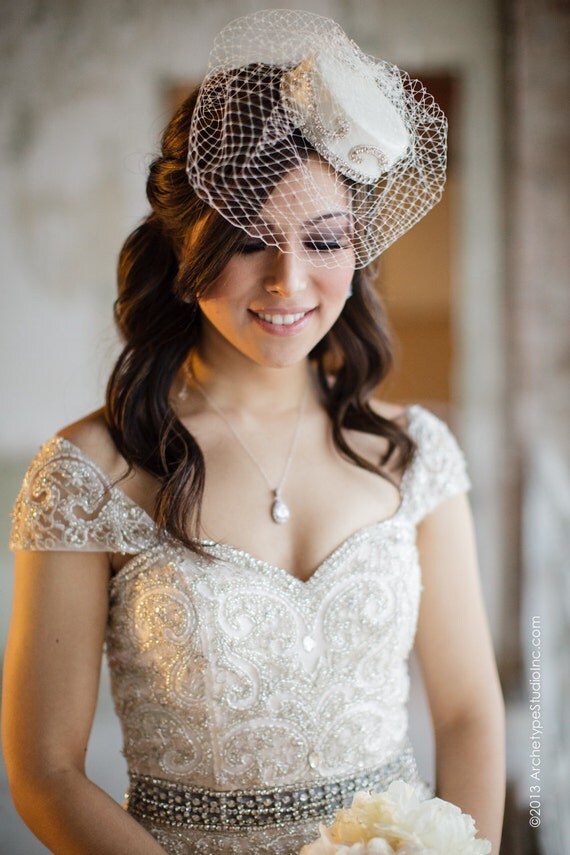 Whether you are feeling inspired by Kate Middleton or Audrey Hepburn, this look says timeless class and beauty. The pillbox hat first began popping up in the 1940's and was all the rage through the 1960's when our first lady, Jackie Kennedy made it her signature look. Over the last five years they have become popular again. Many styles, such as this gorgeous example by
Lulu Bridal Adornments
, have been modified to be smaller, offset to one side and includes a detatchable veil.
With so many possibilities it can be overwheming to choose the perfect headpiece. Here are some easy tips to help your process:
1. If you can't choose between classic and trendy, do one look for your ceremony and one for your reception.
2. Write down words that describe the feel you are trying to accomplish.
Examples: Bohemian, Classic, Regal, Sweet, Innocent, Trendy, Girly, Edgy, Exotic
Then search the word on Etsy with the the words "bridal hair" and see what fun looks come up. You may be smitten with a result you weren't even considering.
3. You can choose an accessory first and ask your hairstylist to come up with a style that will compliment it OR you can decide on a hairstyle and choose your accessory to fit around it.
4. Most importantly you want to be comfortable and feel beautiful. If a style feels too snug, is rubbing, too tight, etc. then no matter how much you love it, go with another option. You don't want to be pulling on your band and itching your pins all night.
5. Take a deep breathe and realize you are gonna be a hot babe in whatever you choose.
So dear brides-to-be and wonderful readers... are you choosing Veiled or Unveiled?