I was so blessed last month with lots of time for research. I have been reading up on everyone's trend predictions for 2015. Will we have more chic and less rustic? Will there be less paper Save the Dates and more digital confirmations? I'm not sure. I don't know which one of these fads will catch on. I'm a horrible fortune teller and most things I think are worth trending are just really pretty things my grandparents did. I did notice that in all forty five(ish) articles I read predicting the next twelve months, there was no mention of veils. I thought this was odd considering I always categorized a veil as a staple bridal piece. Bridal Barbie has a veil, all the Disney Princesses had veils, my mother had a veil. Are crowns and headbands the new veil? Are we done with veils because we are a generation of more progressive women? How did veils even become a thing? Were they really to cover the faces of women before they were married so the man had no idea what his bride looked like?
I decided (surprise, surprise) to do some sleuthing. I got some great answers and ideas. I also decided it would be great to lay out a bunch of options for my brides and readers to have. Today we will be covering all veil types, how the tradition came about and also some helpful hints. Tomorrow we will be chatting about some awesome non-veil options to adorn your crown with.
What I can deduce from scanning and studying many different sources is that veils were originally adopted from pagan weddings in Greece and Rome. They do not necessarily mean virginity or purity, as in the oldest accounts young women wore their hair down and wild to suggest their untouched nature. Pagan brides wore brightly colored yellow or red veils to protect themselves from evil spirits. These colors were believed to have the power to ward off danger.
This fashion was soon adopted by the Jewish community and the color changed to white to symbolize purity, divinity and holiness. It is believed that on the day of her wedding, a bride's soul is elevated to a higher point and emanates divine light. By wearing the veil, the light is suppressed, helping the light get the privacy it desires to thrive with the couple.
Over the last two hundred years Christians have jumped on board with this bridal fashion. A Christian bride believes that by wearing a veil she is proving her pure vessel and virginity.
Some have even suggested that in arranged marriages veils were used so the man could not judge his bride's beauty before saying yes. (tricky, tricky)
In current times, the veil is related to more as a fashion accessory than a purity detector. These delicate beauties are usually made from tulle, lace, ribbon or a combination of them. The most popular colors are variations of white such as cream and blush. There is something stereo typical that makes me want to see a veil on a bride. It completes the society impossed image I have been taught to expect when thinking of a woman getting married. Really though it's up to each woman themselves if they feel good in it, look good in it and it makes them feel special.
Disclaimer: I base the knowledge I share off of several sources and try to weed through to get the clearest and easiest explanations. I used Mindy Wiess' book, Wedding Book, as a guide for the veils I featured, along with details from the Etsy Stores descriptions. I know there are several ways to categorize such things but I adore Mindy. She is the bees knees, and that's why we are doing things her way:)
BIRDCAGE: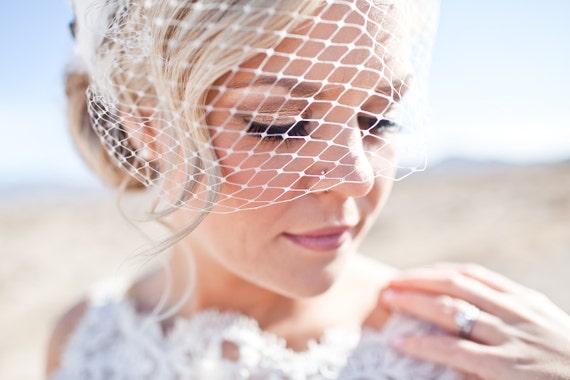 An adorably vintage style; can also be worn to the back. Get this gorgeous look from
Pomp and Plumage
.
FLYAWAY: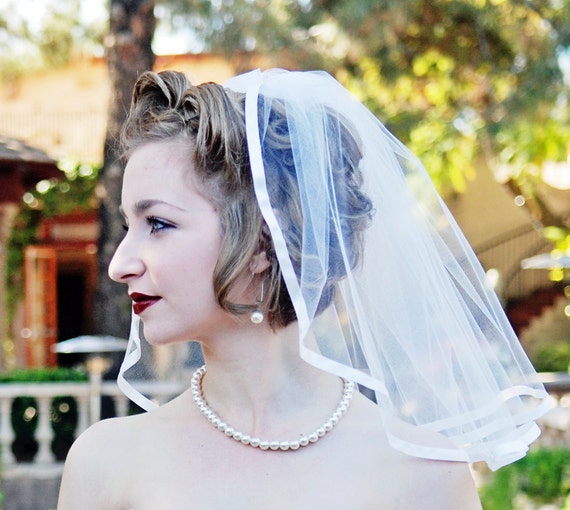 A slightly playful fluff of fabric falling right about your shoulders. This playful, ribbon embellished piece is from
Urban Veil Couture
.
BLUSHER: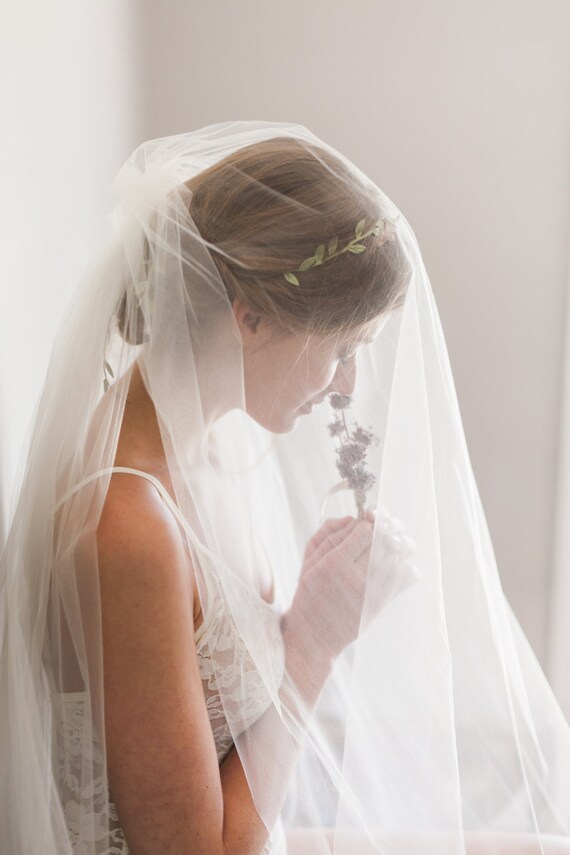 Usually a two tiered piece with the short tier covering the face for the walk down the aisle. The back layer may fall at any length. This breathtaking look is from the shop
Mignonne Handmade
and is available in white, cream or blush.
FOUNTAIN:
Folded to achieve its trademark burst of volume that meets at the crown of the head and cascades down. We found this beautiful example on
www.weddingelation.com
while doing research.
ELBOW:
An easy, wearable length like this gorgeous french creation from
Mignonne Handmade
is a gorgeous classic addition to any bridal ensemble.
POUF: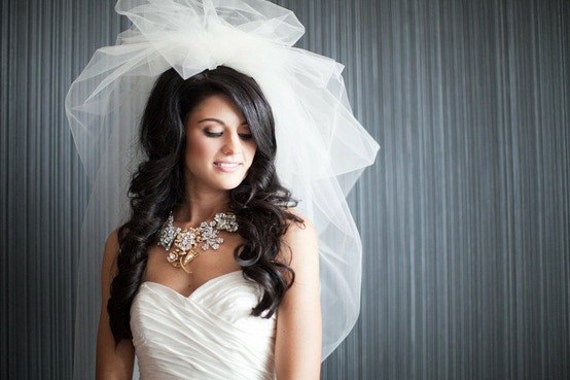 Folded for volume at the crown or back of the head. This look always makes me feel festive. Get your own from
Jules Veils
.
WATERFALL: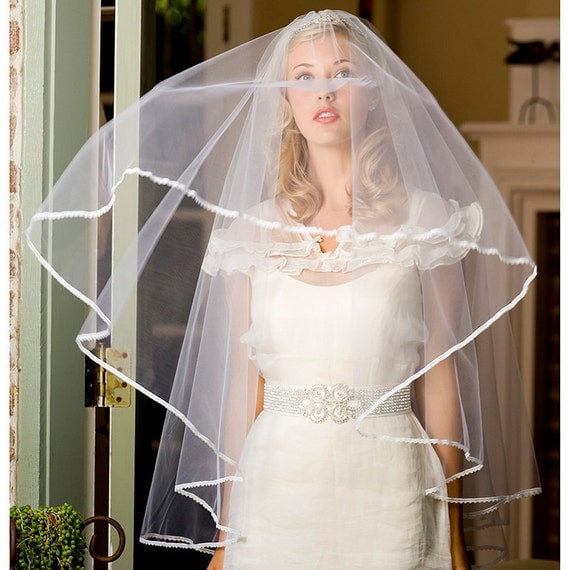 Characterized by its cascading edges, this look brings a little drama to a simple gown. This look by
Erica Elizabeth Design
is absolutely stunning.
FINGERTIP: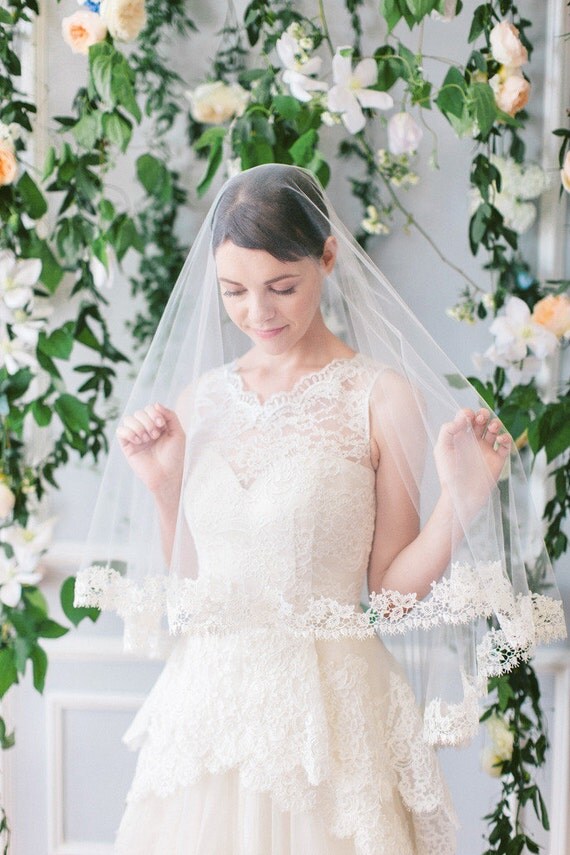 Lands right at your fingertips. This unique example also incorporates a blusher into it's flower and leaf design. The fabric is Guipure Lace and edged with a subtle heart detail. This one of a kind headpiece is from
January Rose
.
WALTZ: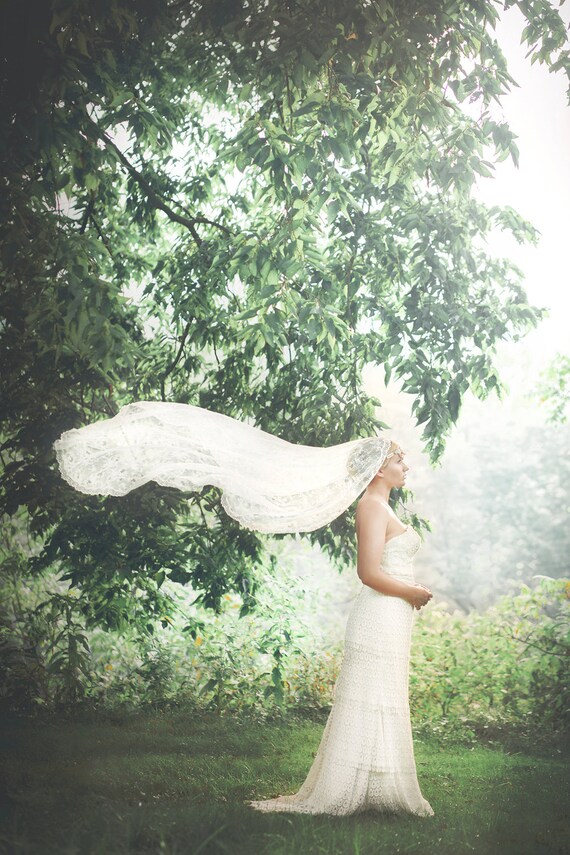 A length that curves in the back landing approximately calf length. This stunning example is made of an elegant Chantilly Lace by
Urban Veils Couture
. It allows you an elegant look, while still freeing up your feet for dancing. (hints the name)
FLOOR-LENGTH: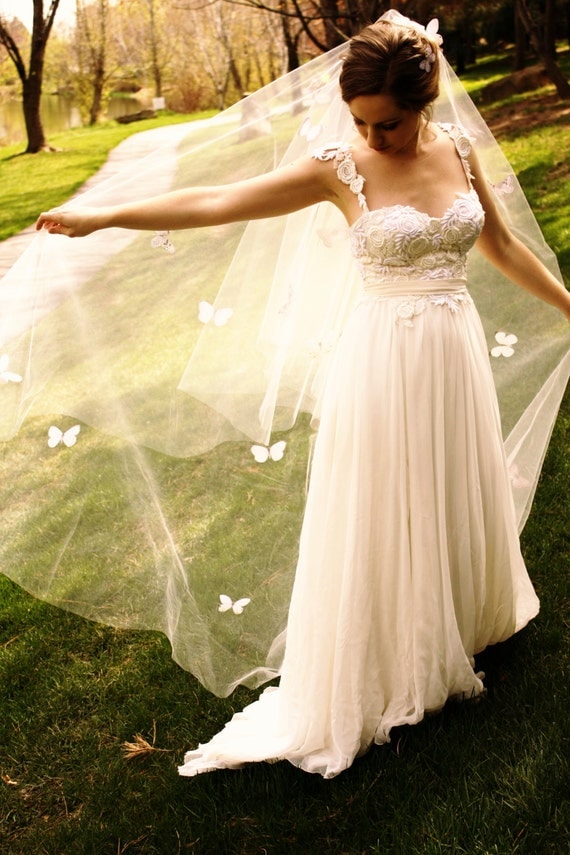 This butterfly embellished veil is just long enough to brush the ground as you walk. This fabulous piece of bridal art is featured from the shop
Anna Marguerite
.
MANTILLA: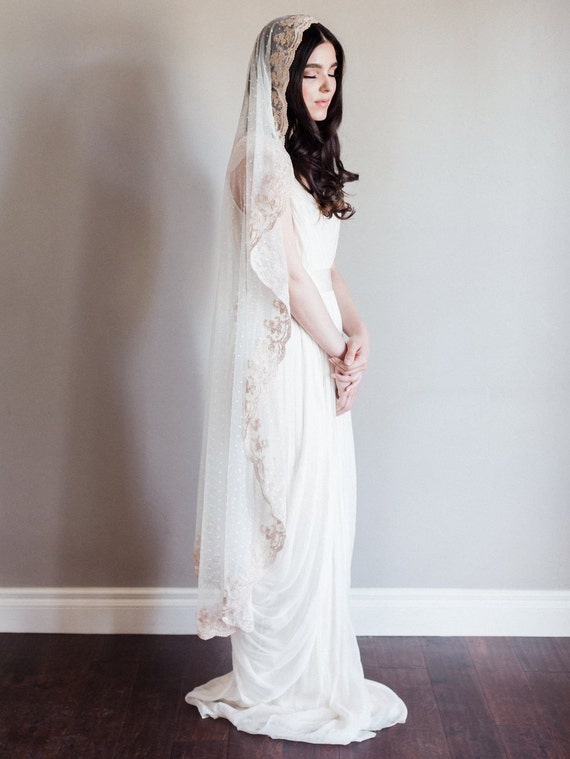 A traditional Spanish veil that is pinned to the crown of the head. How stunning is this photo featuring a polka dot version rimmed with gold lace by
Smitha Menon Bridal
.
SWEEPER/CHAPEL: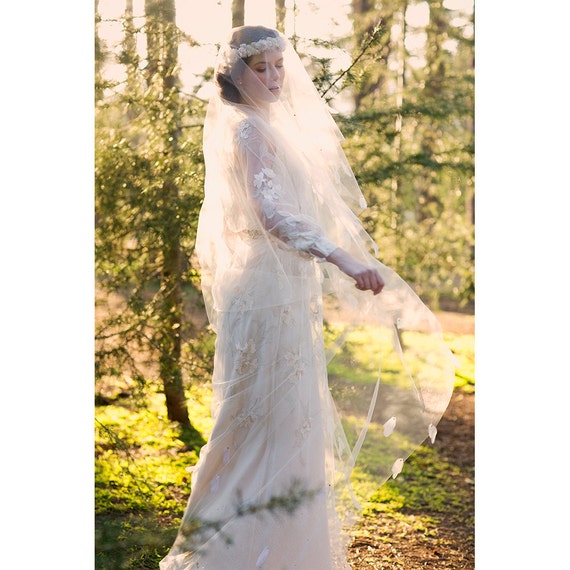 Leaves a slight trail behind you, elongating your entrance to make it just a bit more grand. This handmade veil by
Erica Elizabeth Design
is a bit more intricate with sewn in rhinestones and petals. (It makes me think of Downton Abbey and crave warm scones) Just lovely.
CATHEDRAL: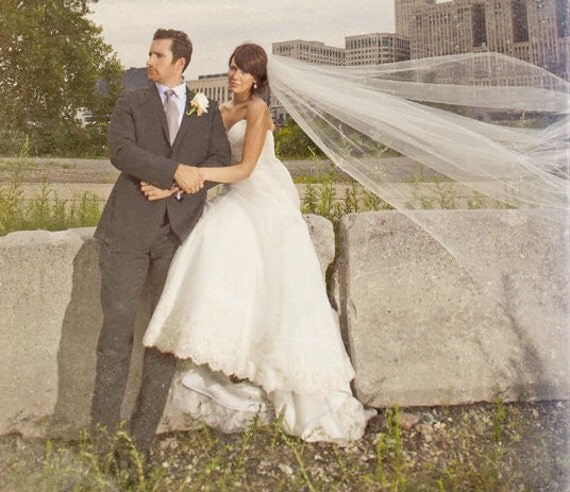 This is the longest option possible. It is perfect for all the little girls growing up playing wedding and now are grown women. If you want to add a regal touch definitely consider a master crafted piece like this one from
Gracefully Girly
.
Tips to consider when choosing to wear a veil on your wedding day...
If you are wearing your veil for the ceremony, but not the reception, make sure to communicate to your hairstylist so they give you a do' that will still support itself once the clip is taken out. Also, prearrange your MOH or MOB to remove the veil privately after the first dance so all the photos will have continuity.
Ask parents, sisters, older gal pals to upcycle their veils. They are usually simple enough that no one will recognize it.
Play opposites. If you have a very simple gown, go for a super lacy, pearl embellished veil. If your dress has lots of flash, glitter and pizzazz then an low key veil will pair nicely.
Most veils run between $25-$200 but can go as high as $1,000 if they have excessive embellishment or are made from antique lace. Don't forget to budget in for a head piece of some sort from the very beginning.
I hope you found this information interesting and helpful. Will you wear a veil to your wedding? Will you cover your face down the aisle? What meaning does it hold for you or your religion?
If you had to choose from one of the above styles, which would it be?